From the beginning of the chapter, Nathan Hale has supported the education of our nation's youth. Our founders began a contest that awarded a five-dollar prize (in gold) to the best eighth grade student essay on the topic of Nathan Hale.
(St. Paul Globe, June 12, 1904, page 18, column 2)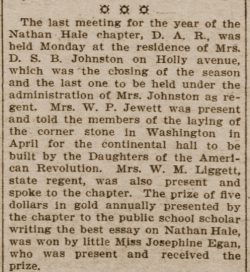 In 1957 and 1994, Nathan Hale Chapter was delighted to sponsor local students who were also chosen the state winners of the Good Citizen award at the Minnesota DAR conference.
For the past 35 years, Nathan Hale has proudly bestowed achievement medals to local high school JROTC students. Recipients must have demonstrated loyalty and patriotism and be in the upper 25 percent percent% of their class. They must have shown qualities of dependability and good character, adherence to military discipline, leadership ability, and a fundamental and patriotic understanding of the importance of ROTC training.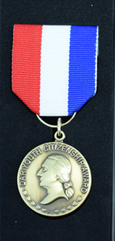 The DAR began awarding DAR Outstanding Cadet Medals in 2014 to recognize outstanding student cadets participating in non-ROTC, military-affiliated cadet programs. Nathan Hale Chapter awards two different medals to outstanding Civil Air Patrol Cadets from the Saint Paul Composite Squadron. One
The DAR Youth Citizenship Medal is presented to a Cadet who exemplifies the qualities of honor, service, courage, leadership, and patriotism. The Outstanding Cadet Medal recognizes a cadet that has distinguished him or herself through outstanding leadership, honor, service, courage, and patriotism.
Nathan Hale members continue to support education through volunteering and supporting local schools.
(Photos from Nathan Hale Chapter Archives.)