After the Great War, the Saint Paul Chapter DAR commissioned a monument to honor the veterans of Ramsey County. The tranquil setting of Shadow Falls Park overlooks the Mississippi River at the western end of Saint Paul's Summit Avenue. Made completely of light-colored granite, a cross completes a column which is atop an octagonal base. For many years, the Saint Paul Chapter solicited donations from merchants, families, corporations and societies; contributions were as little as ten cents and as much as hundreds of dollars.
The granite base has four arched and recessed alcoves for bronze memorial tablets. A few short years after Armistice Day, the Saint Paul Chapter dedicated the first tablet.
IN MEMORY
OF THE MEN AND
WOMEN OF SAINT
PAUL AND RAMSEY
COUNTY WHO
SACRIFICED THEIR
LIVES IN THIS
WORLD WAR.
"GREATER LOVE
HATH NO MAN
THAN THIS"
ERECTED BY SAINT PAUL
CHAPTER DAUGHTERS OF
THE AMERICAN REVOLUTION
A.D. 1922
Hand-colored poster (14″ x 19″), image courtesy of Minnesota Historical Society.
After years of weathering, the bronze tablet was in need of restoration. Because the Saint Paul Chapter disbanded in 1970, Nathan Hale Chapter took on the task of having the memorial refurbished to commemorate the 100th anniversary of the end of World War I.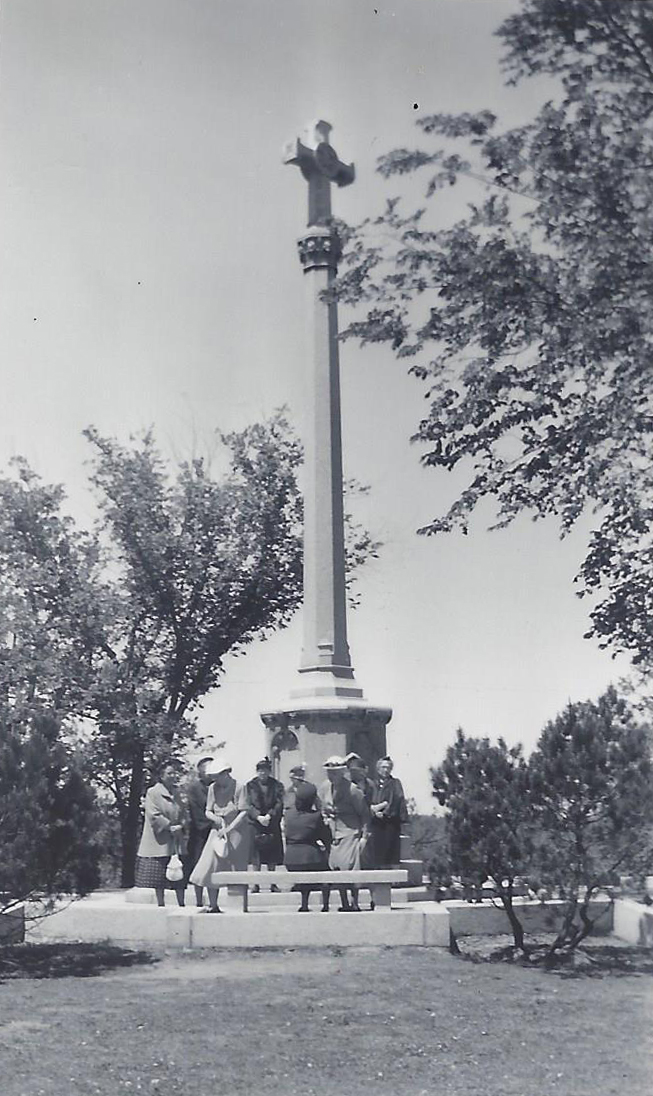 More than 100 Daughters of the American Revolution wore poppies and attended the rededication May 18, 2018. On that bright morning, the Cretin-Durham Hall High School JROTC Color Guard presented the American Flag. The Eighth Grade Select Choir from Falcon Ridge Middle School sang the National Anthem a cappella. Nathan Hale Chapter Regent Jennifer Parker introduced the honored guests: President General Ann Turner Dillon, Minnesota State Regent Faye Leach and Minnesota State Chaplain Susan Jirele.
Nathan Hale Chapter, 1953
(Black & white from Nathan Hale Chapter Archives.)
Nathan Hale Chapter, 2018
(Photo courtesy Michelle White, MNSSDAR Photographer.)