For more than 100 years, Nathan Hale Chapter has supported the restoration of the home of Minnesota's first governor, Henry Hastings Sibley. The Sibley House was given to the Saint Paul Chapter DAR by the Mendota Catholic parish through Archbishop Ireland in 1910. In turn, the historic site was given to the Minnesota State Association Minnesota Daughters of the American Revolution. Throughout the years, many local DAR chapters contributed to the restoration of Minnesota's first official historic site through gifts of money, furnishings and volunteering.
After funding restoration of the Sibley Well House, the chapter added this simple marker in August of 1917.
Local DAR chapters funded the restoration of the Coach House, which originally functioned as the Sibley's Ice House. Nathan Hale Chapter commissioned a bronze marker for the Ice House and placed it on the 151st anniversary of Nathan Hale's death (September 22, 1927).
(State Regent Cora Thayer and Centennial Chair/Nathan Hale member Helen Stearns standing at the Ice House, July 24, 1935: Sibley House Centennial, photo courtesy of Minnesota Historical Society.)
As a gift for the Sibley House Centennial (1935), the chapter furnished the parlor of the Tea House (the DuPuis House), emphasizing the patriotism of Nathan Hale. A great variety of antique furnishings were donated: carpets, mirrors, china and framed art. The highlight of the bequest was a small replica of William Ordway Partridge's statue of Nathan Hale in a rosewood case. These furnishings were removed to the Faribault House in the spring of 1939.
In 1948, Nathan Hale Chapter honored one of its own members at the Sibley House. Lucille Duxbury had served as a chapter officer and as a state regent. She was the first Minnesota Daughter to be elected to a National Society position: Historian General. Nathan Hale Chapter planted a ten-foot spruce at and donated an antique mahogany table desk to the Sibley House to honor her accomplishments.
Marjorie Knowles
and Lucille Duxbury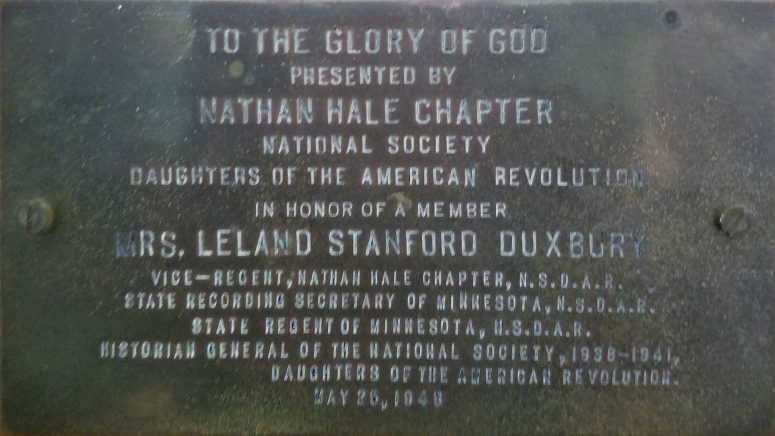 In every year that the Minnesota State DAR had authority over the administration of the Sibley House, the Nathan Hale Chapter donated money for upkeep, such as sewer and fence repairs.
In 2018, the bronze Ice House marker was discovered in a storage room at the Sibley House. During a re-dedication ceremony in May of 2018, the marker was reinstalled.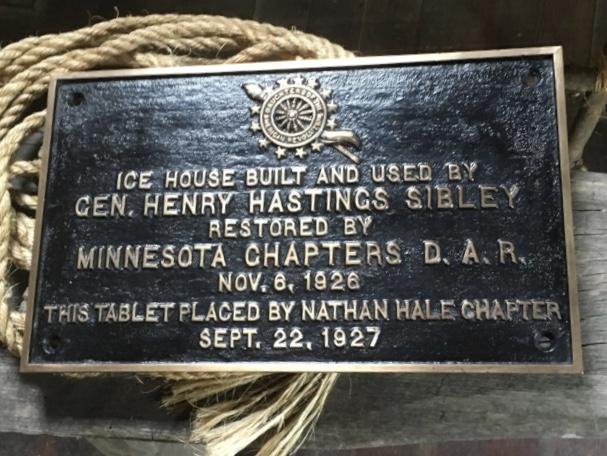 (Photos from Nathan Hale Chapter Archives, unless otherwise noted.)
Nathan Hale/Sibley House research by Karrie Blees, 2018.